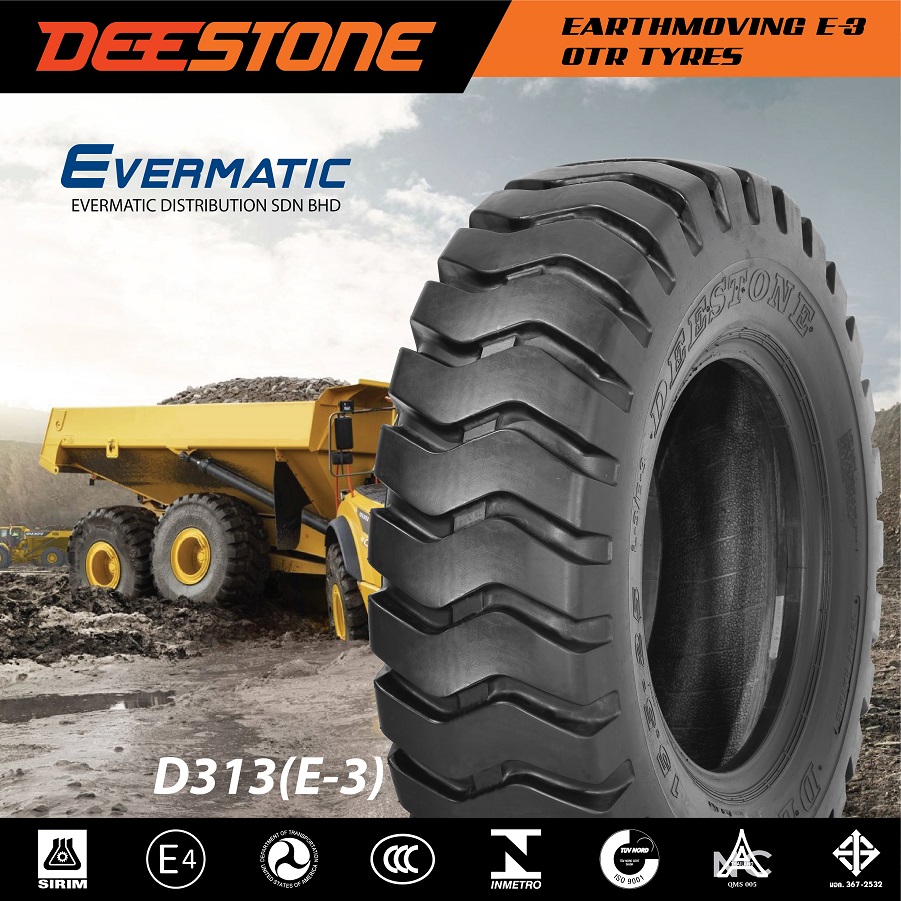 Deestone D313 Earthmoving E3 Off-The-Road Bias Tyres
Keep hauling efficiently with Evermatic Distribution's range of Deestone D313 earthmoving E3 bias tyres for off-the-road (OTR) machineries including articulated dump trucks, dumpers, scrapers and off-highway haul trucks from Caterpillar, Volvo, John Deere and more.
From large mines to construction sites, Deestone cost-effective 24" and 25" earthmover tyres equip heavy equipment fleets with robust toughness and traction for optimal cycle times and smooth transportation of payloads in demanding conditions across Sabah, East Malaysia.
Rugged Construction  
The Deestone D313's tough nylon casing and non-directional tread design with increased depth deliver excellent durability and resistance against cuts/tears from sharp rocks.
Excellent Traction
The Deestone D313's tread pattern creates large contact with the ground to improve wear life and provide better grip performance.
Available Sizes
14.00-24 24PR/28PR for dump trucks from XCMG, Sinomach etc.
15.5-25 12PR/16PR for scrapers from Ashland, Orthman etc.
17.5-25 16PR for scrapers from John Deere, Orthman etc.
20.5-25 20PR for scrapers from John Deere, Ashland etc.
23.5-25 20PR/24PR for articulated trucks from Caterpillar, Volvo, Komatsu etc.
26.5-25 28PR for articulated trucks from Volvo, Bell etc.
29.5-25 28PR for articulated trucks from Caterpillar, Doosan, John Deere etc.
Your Tyre Partner
Deestone D313 is available from Evermatic Distribution, a Malaysian tyre distributor based in Kota Kinabalu, Sabah, East Malaysia. We distribute and supply the full range of Deestone tyres throughout western Sabah including Kota Kinabalu, Penampang, Inanam, Tuaran, Ranau, Putatan and Papar; southern Sabah including Tawau, Labuan, Beaufort, Keningau and Tenom; eastern Sabah including Sandakan and Lahad Datu; and northern Sabah including Kudat and Kota Marudu:
Deestone passenger car radial (PCR) tyres
Deestone ultra-high performance (UHP) tyres
Deestone SUV/4x4 tyres
Deestone light truck (LT)/ultra-light truck (ULT) tyres
Deestone truck & bus radial (TBR) tyres
Deestone farm & agricultural implement off-the-road (OTR) tyres
Deestone forklift/tractor/industrial off-the-road (OTR) tyres
Deestone ATV, golf cart/buggy, go cart & wheel-barrow specialty off-the-road (OTR) tyres
Browse our Products or Contact us for more details on Deestone products.
About Deestone
Deestone was founded in Thailand in 1977 and is today, the country's largest Thai-owned tyre production facility with international distribution in more than 120 countries worldwide. Deestone manufactures a wide segment of quality tyres to meet market-specific requirements with high production standards and global certifications including ISO, DOT, E-mark, TUV NORD, SIRIM, MS and more.
Links
https://www.deestone.com/Tyre-Search/Bias/OFF-THE-ROAD/EARTH-MOVING/D313...
Size Compatibility
14.00-24 24PR/28PR TLS/TT DEESTONE D313 E-3
PA Weichai YZT3630 / YZT3530
Sinomach GK65
XCMG NXG5650D3T / NXG5650DT / XGA5652DT
15.5-25 12PR/16PR TLS DEESTONE D313 E-3
Ashland I-160
Orthman 1425RT
17.5-25 16PR TLS DEESTONE D313 E-3
Ashland 1410E
John Deere 1510DC / 1814DC
Orthman 1425RT
20.5-25 20PR TLS DEESTONE D313 E-3
Ashland 155XL2 / 175XL2 / 220TS4 / 1410E
Ashland 140TS2 / 2014CS / 2012CS / I-160
Bell B20E
John Deere 1510DC /1812DC / 1814DC
23.5-25 20PR/24PR TLS DEESTONE D313 E-3
Ashland 140XL2-LGP / 155XL2 / 175XL2 / 140TS2-LGP
Ashland 3413E / 3013E / 2811E / 2411E
Bell B25E / B30E
Caterpillar 725 / 730
Doosan DA30-5
John Deere 2412DE / 2112DC / 260E / 310E
Komatsu HM300-2R
K-Tec 1228 / 1233 / 1236 / 1228ADT / 1228TRAIN / 1233TRAIN
SEM 653D / 655D / 656D / 660D
Volvo A25G / A30G
26.5-25 28PR TLS DEESTONE D313 E-3
Ashland 3413E / 3013E
Bell B35D
John Deere 2412DE / 2112DC
K-Tec 237ADT / 1233TRAIN / 1237ADTTRAIN
Volvo A35G
29.5-25 28PR TLS DEESTONE D313 E-3
Ashland 155XL2 / 175XL2 / 215TS2 / 155TS2
Bell B40E / B45E / B50E / B40D / B45D
Caterpillar 740EJ / 740GC / 745
Doosan DA45-5
John Deere 410E-II / 460E-II / 2010DE
K-Tec 1243ADT / 1263ADT
Sany SAT40
Volvo A45G / A40G
* Always refer to your vehicle manual for specifications in your region