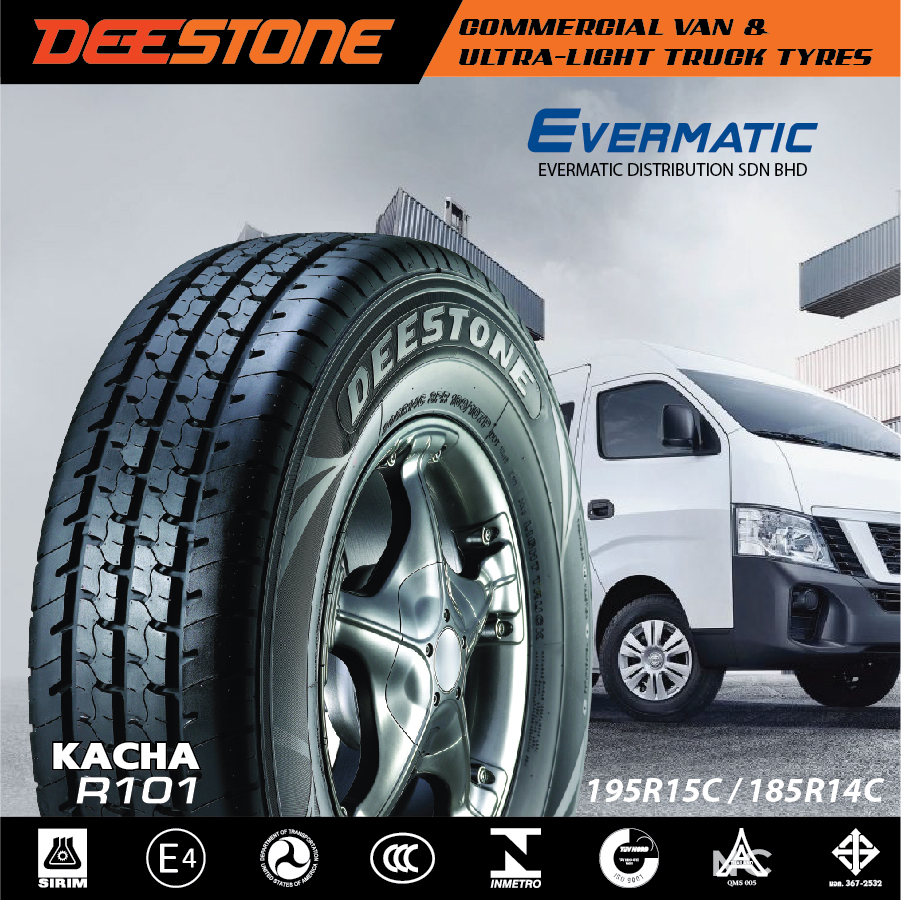 Deestone Kacha R101 Light Commercial Tyres for Vans/ULTs
The Deestone Kacha R101 supplied by Evermatic Distribution equips light goods vehicles with affordable-quality 14C" to 16C" commercial tyres including popular 195 R15C and 185 R14C tyre sizes commonly used by cargo vans and ultra-light trucks (ULTs) in our region.  
The Kacha R101 light commercial (C-type) tyre offers improved load-carrying potential while maintaining handling control and fits a variety of transport vehicles in Sabah, East Malaysia such as Toyota Hiace, Nissan Urvan, Isuzu D-Max, Mitsubishi Triton and Foton View.
Controlled Handling
The Deestone Kacha R101 provides excellent handling control by incorporating four flat and wide rib pattern design to establish optimal tyre contact patch which further contributes towards better road grip.
Durable Protection
The Deestone Kacha R101 is constructed with a double jointless spiral overlay design to improve its load handling ability and features a rim protector to prevent wheel damage for improved durability during service.
Available Sizes
185 R14C 8PR 102/100Q DEESTONE KACHA R101
195 R14C 8PR 106/104P DEESTONE KACHA R101
205 R14C 8PR 109/107P DEESTONE KACHA R101
195 R15C 8PR 106/104P DEESTONE KACHA R101
205 R16C 8PR 110/108R DEESTONE KACHA R101
Your Tyre Partner
Deestone Kacha R101 is available from Evermatic Distribution, a Malaysia tyre supplier based in Kota Kinabalu, Sabah, East Malaysia. We distribute and supply the full range of Deestone tyres throughout western Sabah including Kota Kinabalu, Penampang, Inanam, Tuaran, Ranau, Putatan and Papar; southern Sabah including Tawau, Labuan, Beaufort, Keningau and Tenom; eastern Sabah including Sandakan and Lahad Datu; and northern Sabah including Kudat and Kota Marudu:
Deestone passenger car radial (PCR) tyres
Deestone ultra-high performance (UHP) tyres
Deestone SUV/4x4 tyres
Deestone commercial van/ultra-light truck (ULT) tyres
Deestone light truck (LT) tyres
Deestone truck & bus radial (TBR) tyres
Deestone farm & agricultural implement off-the-road (OTR) tyres
Deestone forklift/tractor/industrial off-the-road (OTR) tyres
Deestone construction/earthmoving off-the-road (OTR) tyres
Deestone ATV, golf cart/buggy, go cart & wheel-barrow specialty off-the-road (OTR) tyres
Browse our Products or Contact us for more details on Deestone products.
About Deestone
Deestone was founded in Thailand in 1977 and is today, the country's largest Thai-owned tyre production facility with international distribution in more than 120 countries worldwide. Deestone manufactures a wide segment of quality tyres to meet market-specific requirements with high production standards and global certifications including ISO, DOT, E-mark, TUV NORD, SIRIM, MS and more.
Links
https://www.deestone.com/Tyre-Search/Radial/SUV/R101.aspx#.YygNsHZBxD8
Size Compatibility
185 R14C 8PR 102/100Q DEESTONE KACHA R101
Ashok Leyland Dost
Dong Feng Supercab DK15 / C35 Panel Van
Ford Econovan
Kabe Royal 600 XL FK / TDL
Kia Pregio Van
Lunar Clubman CK/ES/SB/Si/SR Caravan
Lunar Quasar 462/524/544/574 Caravan
Lunar Taurus 560 / Stellar Caravan
Mitsubishi L300 2.2L Diesel
Nissan Winger / Urvan
Suzuki APV Panel Van
Toyota Hiace (old)
195 R14C 8PR 106/104P DEESTONE KACHA R101
Comaca Rambo S5 / S2000
Dong Feng Supercab Diesel
Ford Ranger
Isuzu D-Max
Mazda Pickup 2000
Nissan Pick Up 2000
205 R14C 8PR 109/107P DEESTONE KACHA R101
Dong Feng DFA1027HZ64D3 Truck
Dong Feng DFA1027HZ23D3 Pick-up Truck P62 
Dong Feng EQ6490H Business Bus
Kabe Royal 600 XL FK / TDL Caravan
Xier ZZT9030XLJ Caravan Trailer
195 R15C 8PR 106/104P DEESTONE KACHA R101
Era Jinbei H2L 2.5 Petrol / 2.5 Turbo Diesel
Foton View CS2 Window Van 2.8 Turbo Diesel
Foton View C2 Window Van 2.0 Petrol / 2.8 Turbo Diesel
Foton View C2 Panel / Semi Panel Van 2.0 Petrol
Isuzu D-Max Single Cab 2.5L (4X2) – Cab Chassis
Mazda E-Series 2000
Mitsubishi Triton Quest M/T 4X2 / L200 4x2
Mitsubishi Strada GL Cab & Chassis
Nissan Urvan NV350 2.5 Turbo Diesel / Pick Up
Toyota Hiace Panel Van 2.5 Turbo Diesel
Toyota Hiace Cargo / Commuter
205 R16C 8PR 110/108R DEESTONE KACHA R101
Mitsubishi Strada GL 2WD/4WD / Triton
Nissan Navara
Toyota Hilux Single Cab 2.4 (MT) 4x4
* Always refer to your vehicle manual for specifications in your region