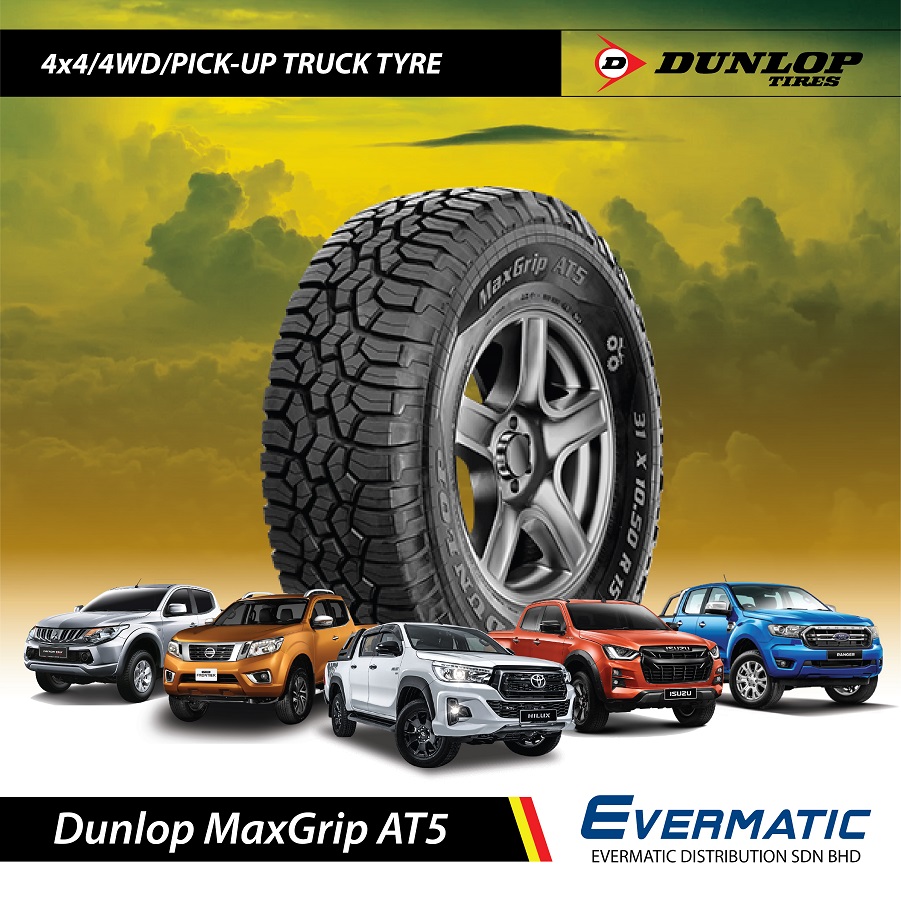 Dunlop MaxGrip AT5 All-Terrain 4x4 Tyres
Introducing Dunlop MaxGrip AT5, the all-terrain 4x4/4WD tyre distributed by Malaysian tyre distributor, Evermatic Distribution to meet the rugged demands of pickup truck segment such as Toyota Hilux, Ford Ranger and Nissan NP300 in Sabah, East Malaysia.
Developed for Malaysian roads, the MaxGrip AT5 range of 15" to 18" 4x4/4-Wheel-Drive (4WD) tyres are built for optimal performance and versatility with excellent traction, durability and mileage both on and off the road.   
Stronger Traction
The Dunlop MaxGrip AT5 tread design incorporates zig-zag blade blocks which form a multi-angle pattern that aggressively expels mud and stone to provide powerful grip both on/off road.  
Durable Sidewall
The Dunlop MaxGrip AT5's durability is improved with sidewall protection ring which resists sidewall forces from rock/boulder impacts and shields against damages for extra tyre protection on all surfaces.      
Longer Mileage
The Dunlop MaxGrip AT5's tread depth offers optimum balance between greater mileage and efficient heat loss to ensure robust performance over enhanced tyre life.  
Available Sizes
255/70 R15 DUNLOP MAXGRIP AT5
265/70 R15 DUNLOP MAXGRIP AT5
31X10.50 R15 DUNLOP MAXGRIP AT5
245/70 R16 DUNLOP MAXGRIP AT5
265/70 R16 DUNLOP MAXGRIP AT5
275/70 R16 DUNLOP MAXGRIP AT5
265/60 R18 DUNLOP MAXGRIP AT5
Your Tyre Partner
Dunlop MaxGrip AT5 is available from Evermatic Distribution, a Malaysian tyre distributor based in Kota Kinabalu, Sabah, East Malaysia. We distribute and supply Dunlop tyres throughout western Sabah including Kota Kinabalu, Penampang, Inanam, Tuaran, Ranau, Putatan and Papar; southern Sabah including Tawau, Labuan, Beaufort, Keningau and Tenom; eastern Sabah including Sandakan and Lahad Datu; and northern Sabah including Kudat and Kota Marudu:
Dunlop passenger car radial (PCR) tyres
Dunlop SUV/4x4/4WD tyres
Browse our Products or Contact us for more details on Dunlop products.
About Dunlop
Dunlop is one of the world's leading manufacturers of high-performance tyres and original equipment (OE) supplier for major car brands such as Porsche, BMW, Mercedes, Audi, Toyota and Nissan. Credited with developing the world's 1st pneumatic tyre in 1888, Dunlop blends more than a century of motor racing experience with innovative technology to produce technical solutions tuned to the highest demands from the racetrack to the road.   
Links
https://www.dunloptyres.com.my/products/4x4-4wd-tyres/maxgrip-at5/
Size Compatibility
255/70 R15 DUNLOP MAXGRIP AT5
Toyota Hilux
31X10.50 R15 DUNLOP MAXGRIP AT5
Toyota Hilux-wide / Land Cruiser
Mitsubishi Pajero
Jeep CJ / TJ Unlimited / Commander XK / Cherokee
Dodge Ram / Ramcharger
245/70 R16 DUNLOP MAXGRIP AT5
Isuzu D-Max
Mitsubishi Pajero Sport 2.5GL / Triton
265/70 R16 DUNLOP MAXGRIP AT5
Toyota Land Cruiser / Prado
Mitsubishi Triton / L200
Nissan Frontier / NP 300
265/60 R18 DUNLOP MAXGRIP AT5
Toyota Hilux / Fortuner
Mitsubishi Triton
Ford Ranger / Everest Trend
OTHER SIZES
265/70 R15 DUNLOP MAXGRIP AT5
275/70 R16 DUNLOP MAXGRIP AT5