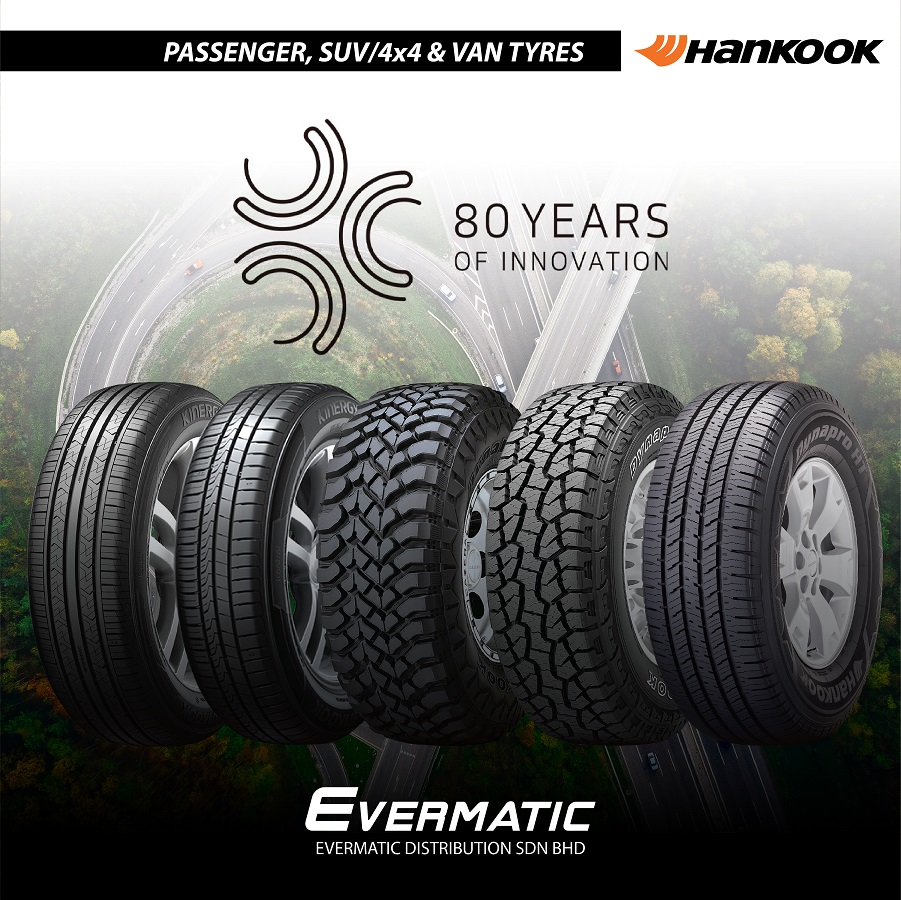 Hankook Passenger PCR, SUV/4x4 & Van Tyres
Malaysia tyre distributor, Evermatic Distribution presents Hankook passenger car radial (PCR), SUV/4x4 and van/transporter tyres designed to meet OE quality standards of leading car manufacturers from Porsche and BMW to Mercedes Benz and Audi.
Having reached its 80th anniversary in 2021, Hankook is today one of the Top 10 global tyre companies committed to the continuous development of award-winning innovations that are acknowledged by renowned design organizations including iF, Red Dot and IDSA.
Hankook produces over 100 million tyres annually – supporting worldwide market distribution in more than 180 countries and active sponsorships in motorsport racing competitions such as 24H Series, F4 US Championship, Super Taikyu Series and Thailand Super Series.
HANKOOK PASSENGER (PCR) TYRES
Choice of 13" to 20" sizes
Kinergy eco2 (K435)
Kinergy EX (H308)
Kinergy GT (H436)
Optimo H426
Ventus Prime 3 (K125)
Ventus S1 evo2 (K117)
Ventus S1 evo3 (K127)
HANKOOK SUV/4x4 TYRES
Choice of 15" to 20" sizes
Dynapro AT2 (RF11)
Dynapro AT M (RF10)
Dynapro HP (RA23)
Dynapro HP2 (RA33)
Dynapro MT (RT03)
Dynapro MT2 (RT05)
HANKOOK VAN/TRANSPORTER TYRES
Choice of 14" to 18" sizes
Dynapro HT (RH12)
Vantra LT (RA18)
Your Tyre Partner
Hankook tyres for passenger cars, SUVs, 4x4s and vans/transporters are available from Evermatic Distribution, a Malaysia tyre distributor based in Kota Kinabalu, Sabah, East Malaysia. We distribute and supply Hankook tyres throughout western Sabah including Kota Kinabalu, Penampang, Inanam, Tuaran, Ranau, Putatan and Papar; southern Sabah including Tawau, Labuan, Beaufort, Keningau and Tenom; eastern Sabah including Sandakan and Lahad Datu; and northern Sabah including Kudat and Kota Marudu:
Hankook passenger car radial (PCR) tyres
Hankook SUV/4x4/light truck tyres
Hankook truck and bus radial (TBR) tyres
Browse our Products or Contact us for more details on Hankook products.
About Hankook
Hankook is one of the world's leading tyre brands with global distribution in more than 180 countries as well as production facilities in Korea, China, USA, Hungary and Indonesia supporting an annual capacity of over 100 million tyres. Backed by strong R&D and technology innovations, Hankook develops strategic OE partnerships with major car manufacturers such as BMW, Audi, Porsche, Mercedes, Hyundai, Kia, Honda, Perodua and more.