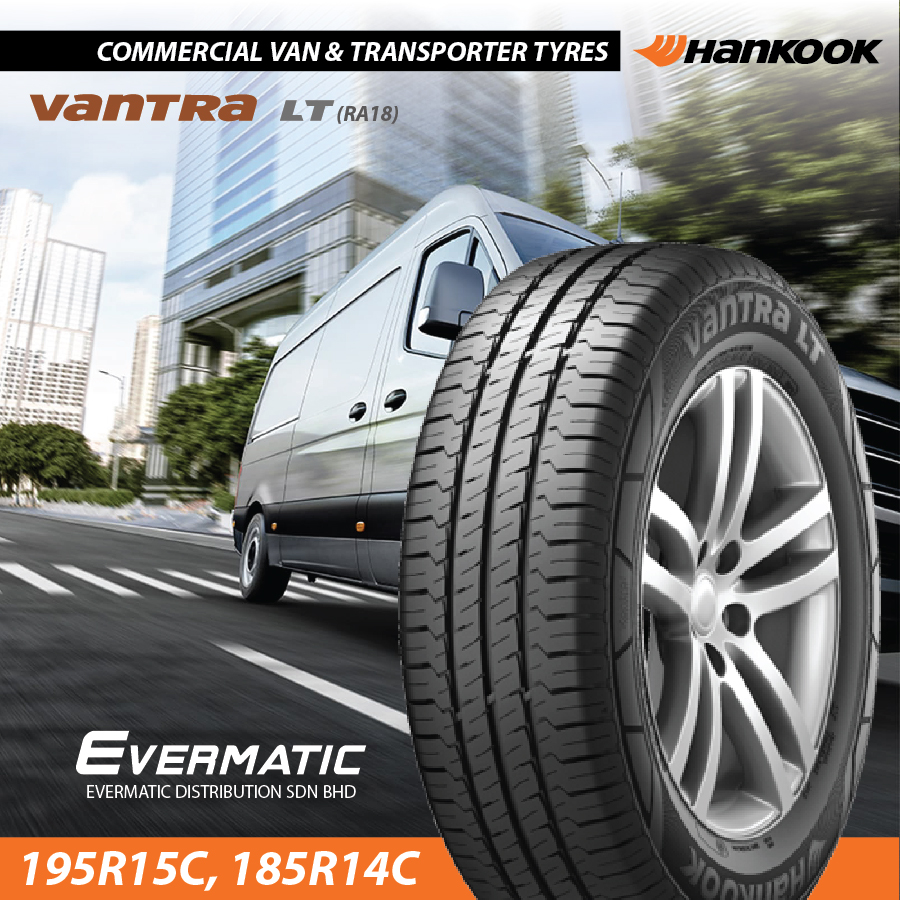 Hankook Vantra LT (RA18) Commercial Van & Pickup Truck Tyres
The Hankook Vantra LT (RA18) commercial radial tyre delivers long mileage and best durability for popular light goods vans and pickup trucks in Sabah, East Malaysia with 195 R15C and 185 R14C tyre fitments such as Toyota Hiace, Nissan Urvan, Kia Pregio and Foton View.
Backed by Hankook's commitment to innovation and quality, the Vantra LT (RA18) distributed by Evermatic Distribution is the trusted choice of 14C" to 16C" light commercial tyres and relied on as the original equipment (OE) fitment for Mercedes-Benz V-Class MPV minivan.
Longer Mileage
The Hankook Vantra LT (RA18) features enlarged square profile and tough compound that extends mileage by 12% – applying slim bead filler for better bead durability as well as foldable belt-end tape for added driving stability at high speeds.   
Wet Braking
The Hankook Vantra LT (RA18) adopts straighter longitudinal grooves to promote efficient water drainage which improves hydroplaning control by 14% and contributes to between 2% to 9% improvement in braking distance during wet grip tests. 
Stable Control
The Hankook Vantra LT (RA18) optimizes the longitudinal groove arrangement to enhance road contact for better cornering stability while foldable belt-end tape wrapped around the edges of the lower steel belt layer stabilizes driving at high speeds.  
Available Sizes
185 R14C HANKOOK VANTRA LT (RA18)
195 R14C HANKOOK VANTRA LT (RA18)
195 R15C HANKOOK VANTRA LT (RA18)
205/70 R15C HANKOOK VANTRA LT (RA18)
215/65 R16C HANKOOK VANTRA LT (RA18)
215/70 R16C HANKOOK VANTRA LT (RA18)
Your Tyre Partner
Hankook Vantra LT (RA18) is available from Evermatic Distribution, a Malaysia tyre distributor based in Kota Kinabalu, Sabah, East Malaysia. We distribute and supply Hankook tyres throughout western Sabah including Kota Kinabalu, Penampang, Inanam, Tuaran, Ranau, Putatan and Papar; southern Sabah including Tawau, Labuan, Beaufort, Keningau and Tenom; eastern Sabah including Sandakan and Lahad Datu; and northern Sabah including Kudat and Kota Marudu:
Hankook passenger car radial (PCR) tyres
Hankook SUV/4x4/ultra-light truck (ULT) tyres
Hankook commercial van/light truck (LT) tyres
Hankook truck and bus radial (TBR) tyres
Browse our Products or Contact us for more details on Hankook products.
About Hankook
Hankook is one of the world's leading tyre brands with global distribution in more than 180 countries as well as production facilities in Korea, China, USA, Hungary and Indonesia supporting an annual capacity of over 100 million tyres. Backed by strong R&D and technology innovations, Hankook develops strategic OE partnerships with major car manufacturers such as BMW, Audi, Porsche, Mercedes, Hyundai, Kia, Honda, Perodua and more.   
Links
https://www.hankooktire.com/my/en/tire/vantra/lt-ra18.html
Size Compatibility
185 R14C HANKOOK VANTRA LT (RA18)
Ashok Leyland Dost
Dong Feng Supercab DK15 / C35 Panel Van
Ford Econovan
Kabe Royal 600 XL FK / TDL
Kia Pregio Van
Lunar Clubman CK/ES/SB/Si/SR Caravan
Lunar Quasar 462/524/544/574 Caravan
Lunar Taurus 560 / Stellar Caravan
Mitsubishi L300 2.2L Diesel
Nissan Winger / Urvan
Suzuki APV Panel Van
Toyota Hiace (old)
195 R14C HANKOOK VANTRA LT (RA18)
Comaca Rambo S5 / S2000
Dong Feng Supercab Diesel
Ford Ranger
Isuzu D-Max
Mazda Pickup 2000
Nissan Pick Up 2000
195 R15C HANKOOK VANTRA LT (RA18)
Era Jinbei H2L 2.5 Petrol / 2.5 Turbo Diesel
Foton View CS2 Window Van 2.8 Turbo Diesel
Foton View C2 Window Van 2.0 Petrol / 2.8 Turbo Diesel
Foton View C2 Panel / Semi Panel Van 2.0 Petrol
Isuzu D-Max Single Cab 2.5L (4X2) – Cab Chassis
Mazda E-Series 2000
Mitsubishi Triton Quest M/T 4X2 / L200 4x2
Mitsubishi Strada GL Cab & Chassis
Nissan Urvan NV350 2.5 Turbo Diesel / Pick Up
Toyota Hiace Panel Van 2.5 Turbo Diesel
Toyota Hiace Cargo / Commuter
205/70 R15C HANKOOK VANTRA LT (RA18)
Comaca Rambo S5 / S2000
Dodge Grand Caravan
Mitsubishi Delica Van
Nissan Caravan
Toyota Hiace Regius
215/65 R16C HANKOOK VANTRA LT (RA18)
Ford Transit 2.2L Panel Van MT
Ford Transit Van Leader / Trend / Limited
Peugeot Expert Van City Short Manual / Pro Short Auto
Peugeot Expert Van Pro Long Manual / Pro Long Auto
Southeast Dodge Caravan
Volkswagen Transporter Chassis/D-Cab / Multivan
215/70 R16C HANKOOK VANTRA LT (RA18)
Hyundai H-1 Urban 2.4 Mpi Passenger Wagon
Toyota Hiace GDH300R-RCFDY / GDH300R-RCTDY
Toyota Hiace Commuter Deluxe 2.8L Diesel
Toyota Quantum 2.8 LWB P/Van 3s w/AC / 2.8 SLWB P/Van 3s w/AC
Toyota Quantum 2 .8 LWB Crew Cab 6s w/AC
* Always refer to your vehicle manual for specifications in your region