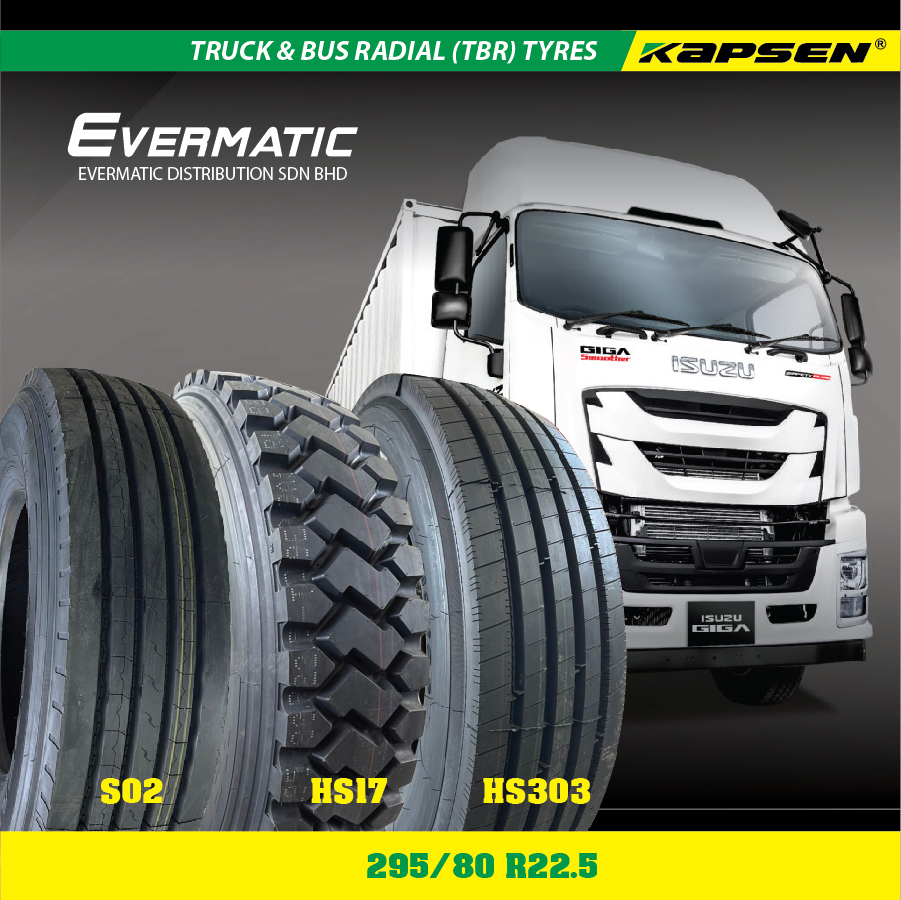 Kapsen 295/80 R22.5 Block/Rib Truck & Bus Radial Tyres
Kapsen's cost-efficient 295/80 R22.5 truck and bus radial (TBR) tyres offer a reliable choice of commercial steer and all-position tyres with block or rib tread to provide the best solutions for long haul, regional or on/off-road trucking applications in Sabah, East Malaysia. 
Utilizing proven production technology, the Kapsen HS17, Kapsen S02 and Kapsen HS303 TBR tyres from Evermatic Distribution are also manufactured to industry-certified standards that apply to Kapsen's commercial truck tyre brands such as Taitong, Terraking and Huasheng.  
KAPSEN HS17 
22.5" steer/all-position (3-block) TBR tyre
Ideal for mining, port, construction and woodland sites
Suitable for short distance/low speed/heavy load trucks
Large, wide tread pattern for excellent grip capability
Cut and wear-resistant compound for added durability
Circular arc groove pattern for water/mud discharge
295/80 R22.5 18PR for Isuzu Giga / Mercedes Actros etc.     
295/80 R22.5 18PR for Hino 700 / Dong Feng Kinland etc. 
KAPSEN S02
22.5" all-position (rib) TBR tyre
Suitable for long-haul/regional transportation
Special tread-line design for better fuel-efficiency
4 longitudinal straight ditches improve drainage
Tread compound and 4-layer belt design resist wear
Anti-vibration tyre design for comfort at high speed
295/80 R22.5 18PR for Mitsubishi Fuso / Foton Bison etc.   
295/80 R22.5 18PR for Dong Feng Kingrun / Iveco Stralis etc.
KAPSEN HS303
22.5" steer-position (rib) TBR tyre
Medium/long-haul transportation on paved roads
Suitable for steering wheel/trailer wheel
4 straight groove design for improved braking/driving
295/80 R22.5 18PR for Isuzu Forward / Dong Feng KC etc.
295/80 R22.5 18PR for Hino 500 / Foton Daimler EST etc. 
Your Tyre Partner
Kapsen truck & bus radial (TBR) tyres are available from Evermatic Distribution, a Malaysia tyre distributor based in Kota Kinabalu, Sabah, East Malaysia. We distribute and supply Kapsen tyres throughout western Sabah including Kota Kinabalu, Penampang, Inanam, Tuaran, Ranau, Putatan and Papar; southern Sabah including Tawau, Labuan, Beaufort, Keningau and Tenom; eastern Sabah including Sandakan and Lahad Datu; and northern Sabah including Kudat and Kota Marudu:
Kapsen passenger car radial (PCR) tyres
Kapsen SUV/4x4/pickup truck tyres
Kapsen commercial van/light truck tyres
Kapsen truck and bus radial (TBR) tyres
Browse our Products or Contact us for more details on Kapsen products.
About Kapsen
Kapsen tyres are manufactured by Shandong Huasheng Rubber, a Chinese tyre producer with annual capacity of 20 million PCR and 8 million TBR tyres that are widely exported to Europe, America, Middle East, Africa and Oceania. Kapsen is part of tyre brand family including Habilead, Huasheng, Taitong and TerraKing that meet manufacturing quality standards from DOT, ECE, ISO9001, ISO14001, GCC, SONCAP, SASO and more.