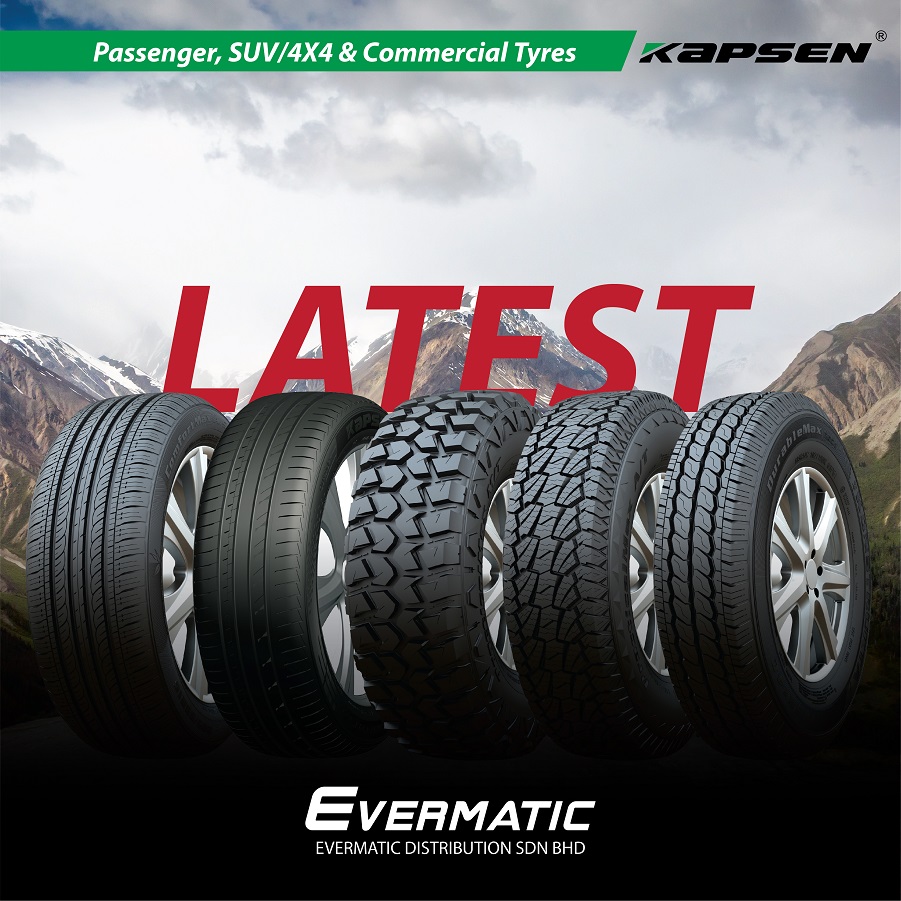 Kapsen Tyres for Passenger Car, SUV/4x4, Van &Light Truck
Malaysia tyre distributor, Evermatic Distribution is delighted to present Kapsen, our latest budget-friendly range of passenger car radial (PCR), SUV/4x4 and commercial van/light truck tyres for wholesale supply to tyre dealers in Sabah, East Malaysia.
With strong emphasis on R&D technology, Kapsen produces reliable and green tyres using top-quality raw materials from USA and Korea as well as advanced manufacturing equipments from Japan and Germany to meet tyre consumer needs in over 100 countries globally.
Kapsen tyres are developed by Shandong Huasheng Rubber, a Chinese multi-brand tyre producer including Habilead and TerraKing with combined capacity of 28 million radial tyres manufactured under quality standards from ISO, DOT, ECE, GCC, SASO, INMETRO and more.
KAPSEN PASSENGER (PCR) TYRES
Available in 12" to 22" sizes
COMFORTMAX AS H202
COMFORTMAX S801
SPORTMAX S2000
TOURINGMAX AS H201
K737 / K3000
KAPSEN SUV/4x4 TYRES
Available in 15" to 20" sizes
PRACTICALMAX A/T RS23
PRACTICALMAX H/T RS21
PRACTICALMAX H/T RS27
PRACTICALMAX M/T RS25
PRACTICALMAX H/P RS26
KAPSEN COMMERCIAL VAN/LIGHT TRUCK TYRES
Available in 13" to 16" sizes
Your Tyre Partner
Kapsen tyres are available from Evermatic Distribution, a Malaysian tyre distributor based in Kota Kinabalu, Sabah, East Malaysia. We distribute and supply Kapsen tyres throughout western Sabah including Kota Kinabalu, Penampang, Inanam, Tuaran, Ranau, Putatan and Papar; southern Sabah including Tawau, Labuan, Beaufort, Keningau and Tenom; eastern Sabah including Sandakan and Lahad Datu; and northern Sabah including Kudat and Kota Marudu:
Kapsen passenger car radial (PCR) tyres
Kapsen SUV/4x4 tyres
Kapsen light truck (LT)/ultra-light truck (ULT) tyres
Browse our Products or Contact us for more details on Kapsen products.
About Kapsen
Kapsen tyres are manufactured by Shandong Huasheng Rubber, a Chinese tyre producer with annual capacity of 20 million PCR and 8 million TBR tyres that are widely exported to Europe, America, Middle East, Africa and Oceania. Kapsen is part of tyre brand family including Habilead, Huasheng, Taitong and TerraKing that meet manufacturing quality standards from DOT, ECE, ISO9001, ISO14001, GCC, SONCAP, SASO and more.
Links
https://www.kapsentyre.com/index.html
http://www.hstyre.com/