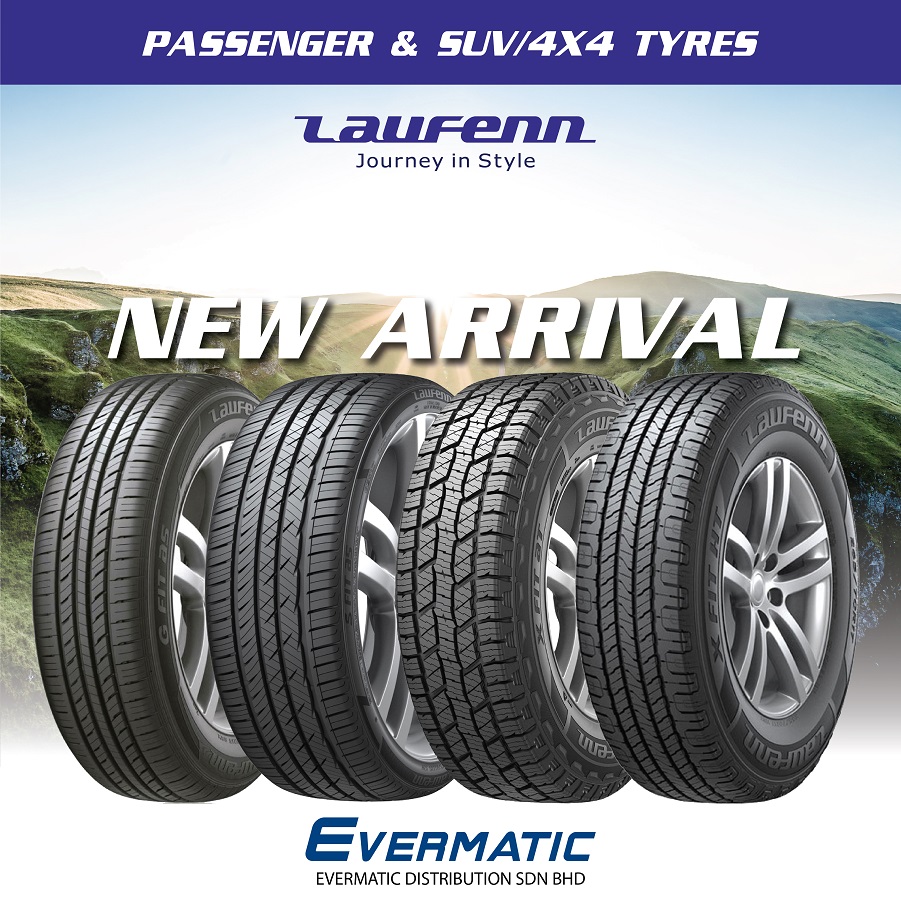 Laufenn Passenger Car Radial (PCR). SUV & 4x4 Tyres
We are thrilled to start New Year 2022 in style with Laufenn, the smart choice of 14" to 18" passenger car radial (PCR), SUV and 4x4 tyres for tyre dealers and motorists throughout Sabah, East Malaysia from Malaysia tyre distributor, Evermatic Distribution.
The Laufenn brand is produced by Top 10 global tyre manufacturer, Hankook – offering the best fit of value and quality tailored towards the lifestyle of sensible drivers who often prefer simple yet capable tyres that can handle the versatile needs of everyday driving.   
Developed from advanced R&D technology, Laufenn tyres are manufactured using proven production standards at ISO-certified plants and backed by comprehensive road testing at high-tech facilities to deliver peak performance, reliability and safety.    
LAUFENN PASSENGER (PCR) TYRES
Available in 14" to 18" sizes
G FIT AS (LH41)
S FIT AS (LH01)
LAUFENN SUV/4x4 TYRES
Available in 15" to 17" sizes
X FIT AT (LC01)
X FIT HT (LD01)
Your Tyre Partner
Laufenn tyres are available from Evermatic Distribution, a Malaysian tyre distributor based in Kota Kinabalu, Sabah, East Malaysia. We distribute and supply Laufenn tyres throughout western Sabah including Kota Kinabalu, Penampang, Inanam, Tuaran, Ranau, Putatan and Papar; southern Sabah including Tawau, Labuan, Beaufort, Keningau and Tenom; eastern Sabah including Sandakan and Lahad Datu; and northern Sabah including Kudat and Kota Marudu:
Laufenn passenger car radial (PCR) tyres
Laufenn SUV/4x4 tyres
Browse our Products or Contact us for more details on Laufenn products.
About Laufenn
Laufenn was launched in 2014 by Hankook, one of the world's leading tyre manufacturers to offer a range of affordable tyres with quality, value and style tailored to different lifestyles. Backed by high-tech R&D, well-equipped testing and ISO-certified plants, Laufenn leverages proven manufacturing technology to produce passenger, SUV/4x4 and commercial tyres for the global automotive market.
Links
https://www.laufenn.com/au/front/au_front/index.do
https://www.hankooktire.com/my/