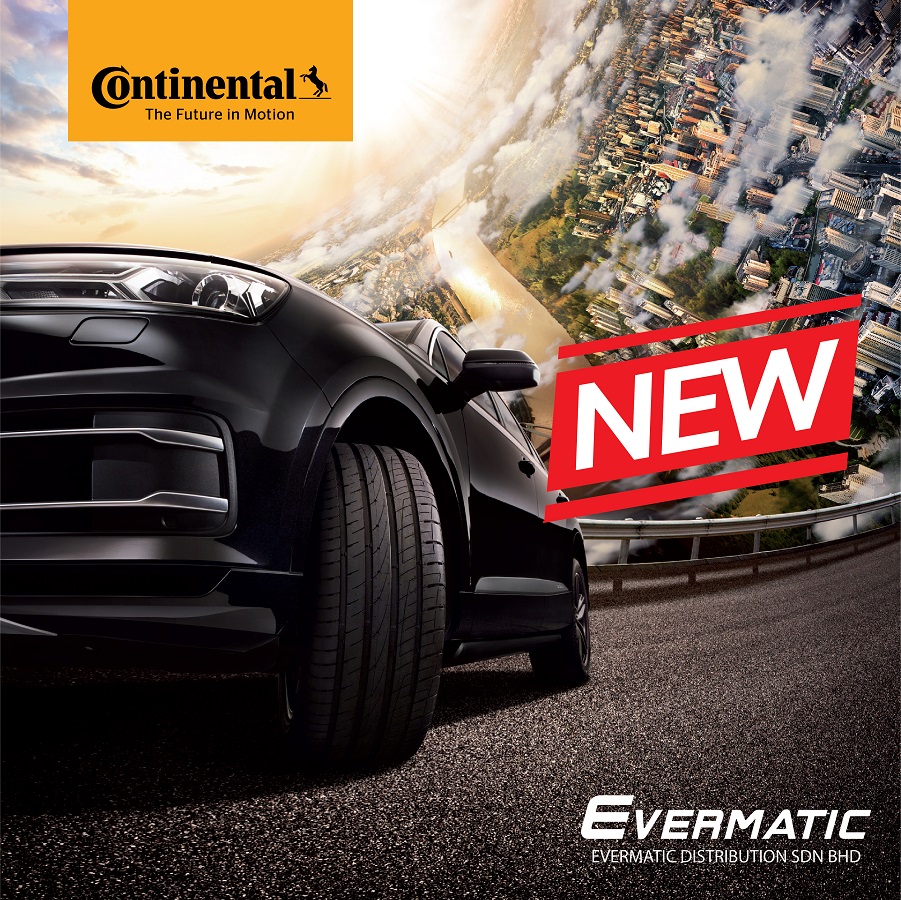 NEW ARRIVAL! Continental Passenger, SUV/4x4 & Van Tyres
We are pleased to announce that Malaysian tyre distributor, Evermatic Distribution has introduced Continental passenger car radial (PCR), SUV/4x4 and van tyres to its latest range of high-quality tyres for customers and tyre dealers in Sabah, East Malaysia. 
Bearing the iconic "rampant horse" trademark that symbolizes its strength, agility and endurance, Continental is one of the top global tyre manufacturer defined by 150 years of pioneering German innovation and engineering.
True to Germany's renowned quality standards, Continental's global team in 61 countries is relied on as a trusted original equipment (OE) supplier by 20 manufacturers, 51 brands & 273 active models worldwide from Honda Civic Turbo to Tesla Model-S. 
Continental advances new technologies that are recognized by prestigious automotive industry panels such as PACE Awards with 140,000 tyre tests over 200 million kilometres each year to optimize driving performance on all surfaces and in all weather:
CONTINENTAL PASSENGER (PCR) TYRES
Available in 13" to 20" sizes
ComfortContact 1
ComfortContact CC5
ComfortContact CC6
EcoContact 5
MaxContact MC5
MaxContact MC6
PremiumContact 2
UltraContact UC6
CONTINENTAL SUV/4x4 TYRES
Available in 15" to 22" sizes
4x4 Contact
CrossContact AT
CrossContact LX
CrossContact LX 2
CrossContact LX Sport
CrossContact UHP
Ultracontact UC6 SUV
CONTINENTAL VAN TYRES
Available in 12" to 16" sizes
VanContact
VanContact 100
VanContact AP
The addition of Continental tyre places Evermatic Distribution in stronger position as Your Tyre Partner to provide an even greater choice of high-quality tyres for your needs. Browse our Products or Contact us for more details on Continental products.