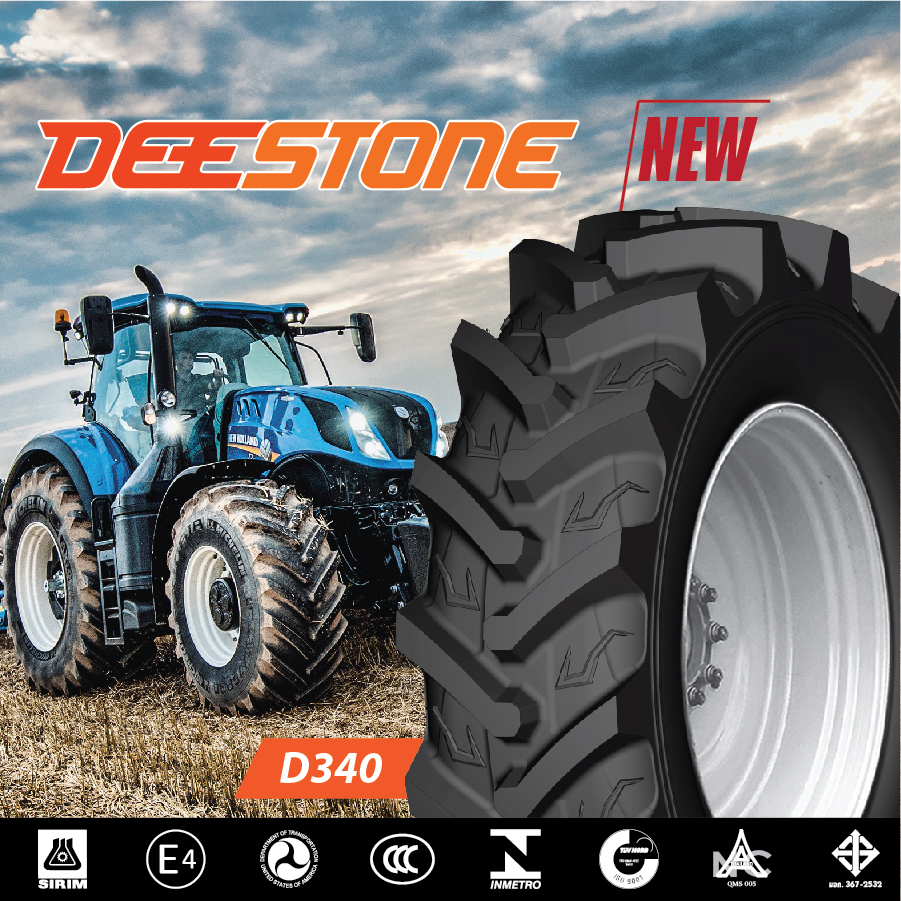 New Arrival! Deestone D340 Farm & Agriculture Tyres
Introducing the all-new Deestone D340 – the latest farm and agricultural implement tyre from Thailand's largest Thai-owned tyre manufacturer, Deestone. With its deep lug tread and strong casing, the new D340 off-the-road (OTR) tyre improves on its ability to tackle wet and muddy farm soil operations; making it the ideal choice for Sabah's agricultural fields and climate.
Deestone D340 Tyre
The new Deestone D340 is distributed in Sabah, East Malaysia by Malaysian tyre supplier, Evermatic Distribution.
As the state shifts towards boosting agro-based sectors through Sabah Agriculture Blueprint 2021-2030, the D340's competitive advantage in Sabah markets is further enhanced by Deestone's reputation as a trusted producer of affordable quality tyres that meet industry-specific needs – such as its popular and cost-effective 12.4-24 agriculture tyres: 
Superior Mud Traction
The new D340's improved deep tread and open, angled lug design also features a unique tread groove pattern for greater traction and self-cleaning performance in wet and muddy farming conditions. 
Longer Mileage
The new D340's strong nylon casing and thicker compound improves durability, wear-resistance and stability for better tyre mileage. 
Common Sizes
12.4-24 8PR TT DEESTONE D340
Evermatic – Your Tyre Partner
Deestone D340 is available from Evermatic Distribution, an authorized Malaysian Deestone tyre distributor based in Kota Kinabalu, Sabah, East Malaysia. We distribute and supply the full range of Deestone tyres throughout Sabah western regions including Kota Kinabalu, Penampang, Inanam, Tuaran, Ranau, Putatan and Papar; Sabah southern regions including Tawau, Labuan, Beaufort, Keningau and Tenom; Sabah eastern regions including Sandakan and Lahad Datu; and Sabah northern regions including Kudat and Kota Marudu:
Deestone passenger car radial (PCR) tyres
Deestone SUV/4x4 tyres
Deestone light truck (LT)/ultra-light truck (ULT) tyres
Deestone truck & bus radial (TBR) tyres
Deestone farm & agricultural implement off-the-road (OTR) tyres
Deestone industrial implement off-the-road (OTR) tyres
Deestone ATV, golf cart, go cart & wheel barrow specialty tyres
Browse our Products or Contact us for more details on Deestone products.
About Deestone
Deestone is a Thailand tyre producer founded in 1977 and is today, the country's largest Thai-owned tyre production facility with tyre distribution in more than 120 countries worldwide. Based in Samut Sakhon, Deestone manufactures a wide segment of quality tyres – from passenger tyres to truck and bus tyres and off-the-road tyres – to meet market-specific applications and requirements with high production standards and global certifications.