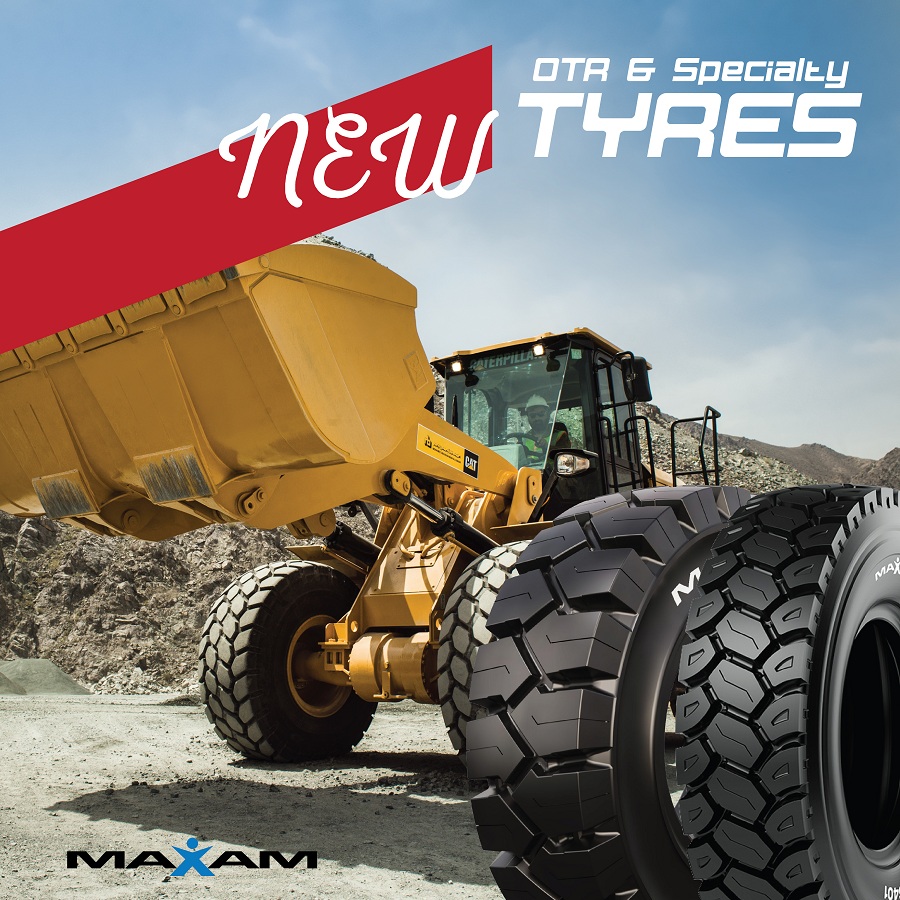 NEW! Maxam Off-The-Road & Specialty Tyres
Evermatic Distribution widens its range of off-the-road (OTR) and specialty tyres for Sabah, East Malaysia market with its recent appointment as an authorized Maxam Tire dealer in Malaysia.
Maxam Tire is an OTR and specialty heavy equipment tyre brand known globally for its market-leading quality, reliability and value. Today, its tyres are used by some of the world's largest mining operators and approved as OE fitment tyres by Caterpillar, the world's leading heavy equipment manufacturer.
Backed by world-class engineering, advanced manufacturing platforms and strict quality controls, Maxam Tire is well-positioned to offer unique business solutions for off-the-road (OTR) and specialty tyre applications with its range of superior quality tyres:
Maxam Off-The-Road (OTR) / Earth Moving / Loader / Dozer Tyres
MAXAM MS301 E3/L3
MAXAM MS302 E3/L3+
MAXAM MS405 E4/L4
Maxam Construction Tyres
MAXAM MS900 2WD (Backhoe-Industrial Service)
MAXAM MS901 R4 (Backhoe-Industrial Service)
MAXAM MS902 R1 (Backhoe-Industrial Service)
MAXAM MS903 R4 (Backhoe-Industrial Service)
MAXAM MS904 R4 (Backhoe-Industrial Service)
MAXAM MS905 R4 (Grader/Telehandler)
MAXAM MS906 R4 (Skid Steer)
MAXAM MS908 (Wheeled Excavator)
MAXAM MS909 (Multipurpose)
MAXAM MS910R (Multipurpose Radial)
Maxam Industrial / Forklift / Ground Support Equipment Tyres
MAXAM MS702 Solid
MAXAM MS801 Pneumatic
MAXAM MS802 GSE
Maxam Mining Tyres
MAXAM MS401 E4
Maxam Agricultural Tyres
MAXAM MS965 Implement I1
This latest partnership between Evermatic Distribution and Maxam Tire further strengthens its reputation as a leading regional tyre distributor of trusted tyre brands in our Malaysian market.
Browse our Products or Contact us for more details on Maxam tyres.
About Maxam Tire
Maxam Tire is a global leader and manufacturer of specialty tyres engineered and custom built specifically for off-the-road (OTR), construction, industrial, mining, agricultural and forestry industries. It is a subsidiary of Sailun Group – China's first A-listed private tyre company – with worldwide presence in North America, South Central America, Europe, Middle East, Africa, Asia and Asia Pacific.   
2011:
Sailun Group acquires Maxam Tire
2013:
Sailun Group completes new Maxam Huangdao, PRC radial OTR manufacturing facility
2014:
Maxam opens up North America operations in Boston, MA
2015:
Maxam Vietnam facility begins production of radial OTR products
Maxam Huangdao facility begins production of solid OTR products
2016:
Maxam Vietnam & Maxam Huangdao undergo 1st manufacturing expansion for radial OTR products
2017:
Maxam Vietnam undergoes 2nd manufacturing expansion for radial OTR products
Maxam Huangdao undergoes 2nd manufacturing expansion for Giant radial OTR products
2018:
Maxam Vietnam expands manufacturing platform for radial Ag and large bias tyre programs
Major OEM approves Maxam products for global placement
Maxam Tire centralizes global specialty tyre division in Boston, MA