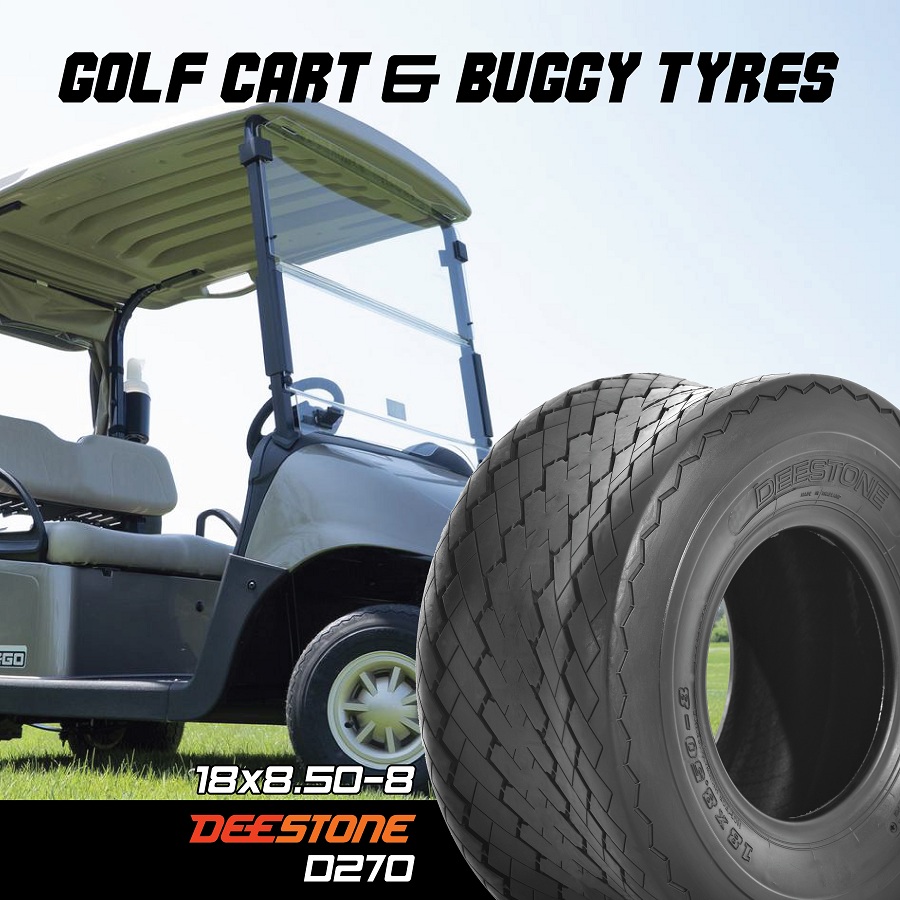 Deestone D270 Golf Cart Tyres
The Deestone D270 golf cart and buggy tyre for golf and utility carts delivers the preferred balance of handling and durability for a pleasant ride on the golf course.
The turf-friendly D270 features sawtooth tread with tough nylon design and its popular 18x8.50-8 standard golf cart tyre is compatible with a wide range of familiar golf carts from E-Z-Go, Club Car, Yamaha, Marshell and more.
Deestone D270 Tyre
The D270 is manufactured by Deestone, Thailand's largest Thai-owned tyre producer and part of its off-the-road tyres that are quality-certified by – among others – ISO (International), DOT (USA), E-mark (EU), TUV NORD (Germany), SIRIM (Malaysia) and MS (Malaysia).
Distributed in Sabah, East Malaysia by Malaysian tyre supplier, Evermatic Distribution; the D270 is an excellent affordable quality golf cart tyre that will provide dependable performance from the first tee to your final putt.   
Turf-Friendly Tread
The Deestone D270 optimizes ground traction and stability without damaging turf structure with its wide and flat sawtooth tread design
 
Durable Construction
The Deestone D270 is designed with strong nylon construction and 4-ply rating to ensure durability around golfing facilities
 
Common OEM-Compatible Size
18x8.50-8 (4-PLY) DEESTONE D270
E-Z-Go RXV / TXT / Freedom RXV / Freedom TXT
Club Car Tempo / Tempo Lithium / Tempo 4Fun
Yamaha Drive2 Fleet
Marshell DG-C2-5 / DG-C2 / DG-C2+2
Marshell DG-C4 / DG-C4+2 / DG-C6 / DG-C6+2
Zhongyi GD6-L2 / GD6-L4 / GD6-L4A / GD6-L4B
Auto Power AP-4S
Gdrive GD2 / GD 2+2
Your Tyre Partner
Deestone D270 is available from Evermatic Distribution, an authorized Malaysian Deestone tyre supplier based in Kota Kinabalu, Sabah, East Malaysia. We distribute and supply the full range of Deestone tyres throughout Sabah western regions including Kota Kinabalu, Penampang, Inanam, Tuaran, Ranau, Putatan and Papar; Sabah southern regions including Tawau, Labuan, Beaufort, Keningau and Tenom; Sabah eastern regions including Sandakan and Lahad Datu; and Sabah northern regions including Kudat and Kota Marudu:
Deestone passenger car radial (PCR) tyres
Deestone SUV/4x4 tyres
Deestone light truck (LT)/ultra-light truck (ULT) tyres
Deestone truck & bus radial (TBR) tyres
Deestone farm & agricultural implement off-the-road (OTR) tyres
Deestone industrial implement off-the-road (OTR) tyres
Deestone ATV, golf cart/buggy, go cart & wheel barrow specialty tyres
Browse our Products or Contact us for more details on Deestone products.
About Deestone
Deestone was founded in Thailand in 1977 and is today, the country's largest Thai-owned tyre production facility with tyre distribution in more than 120 countries worldwide. Deestone manufactures a wide segment of quality tyres – from passenger tyres to truck and bus tyres and off-the-road tyres – to meet market-specific requirements with high production standards and global certifications.
Links
https://www.deestone.com/Tyre-Search/Bias/OFF-THE-ROAD/GOLF-CART/D270.as...