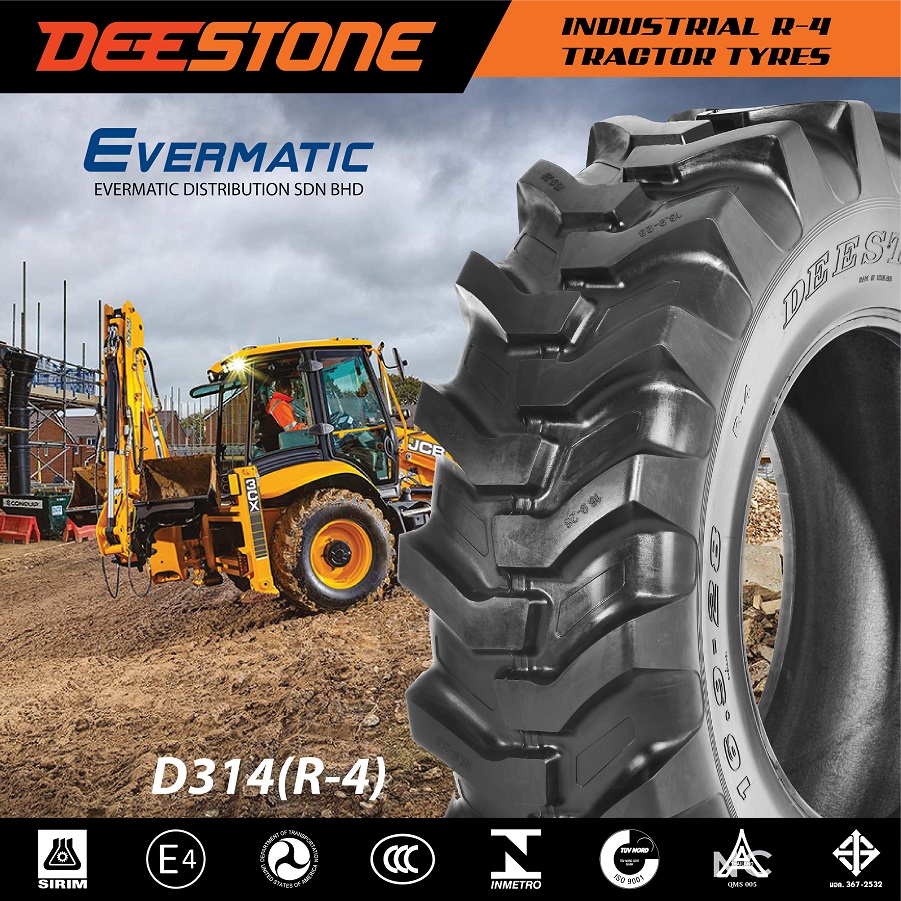 Deestone D314 Industrial R4 Off-The-Road Bias Tractor Tyres
Maximize versatility on the jobsite with Deestone D314 range of 24" to 28" industrial R4 bias tractor tyres for off-the-road (OTR) machineries such as industrial tractors and backhoe loaders from Caterpillar, Kubota, Yanmar, John Deere and more.
Deestone's best-value industrial tractor tyres from Malaysia tyre supplier, Evermatic Distribution feature extra-wide lugs and durable casing – ideal for multitask lifting and hauling in industrial and construction projects across Sabah, East Malaysia.
Dependable Grip
The Deestone D314 incorporates industrial R4 tread design with extra wide, robust and overlapping lugs to provide reliable traction in off-the-road industrial and construction use.
Durable Performance 
The Deestone D314 combines strong nylon casing and advanced tread compound to deliver excellent durability, stability and resistance to chipping and wearing.
Popular Sizes
16.9-24 10PR for tractors from John Deere, Yanmar, Case etc.
16.9-28 12PR for backhoe loaders from Caterpillar, Case etc.
17.5L-24 12PR for tractor loaders from Kubota, John Deere etc.
19.5L-24 12PR for backhoe loaders from Caterpillar, John Deere etc.
Your Tyre Partner
Deestone D314 industrial tractor off-the-road (OTR) bias tyres are available from Evermatic Distribution, a Malaysian tyre supplier based in Kota Kinabalu, Sabah, East Malaysia. We distribute and supply the full range of Deestone tyres throughout western Sabah including Kota Kinabalu, Penampang, Inanam, Tuaran, Ranau, Putatan and Papar; southern Sabah including Tawau, Labuan, Beaufort, Keningau and Tenom; eastern Sabah including Sandakan and Lahad Datu; and northern Sabah including Kudat and Kota Marudu:
Deestone passenger car radial (PCR) tyres
Deestone ultra-high performance (UHP) tyres
Deestone SUV/4x4 tyres
Deestone light truck (LT)/ultra-light truck (ULT) tyres
Deestone truck & bus radial (TBR) tyres
Deestone farm & agricultural implement off-the-road (OTR) tyres
Deestone forklift/tractor/industrial off-the-road (OTR) tyres
Deestone ATV, golf cart/buggy, go cart & wheel-barrow specialty off-the-road (OTR) tyres
Browse our Products or Contact us for more details on Deestone products.
About Deestone
Deestone was founded in Thailand in 1977 and is today, the country's largest Thai-owned tyre production facility with international distribution in more than 120 countries worldwide. Deestone manufactures a wide segment of quality tyres to meet market-specific requirements with high production standards and global certifications including ISO, DOT, E-mark, TUV NORD, SIRIM, MS and more.
Links
https://www.deestone.com/Tyre-Search/Bias/OFF-THE-ROAD/INDUSTRIAL-TRACTO...
Size Compatibility
16.9-24 10PR TLS DEESTONE D314 R-4
Case 480C
John Deere 210L EP / 210L / 310C
Yanmar YM359
16.9-28 12PR TLS DEESTONE D314 R-4
Case 570ST
Caterpillar 426F2
17.5L-24 12PR TLS DEESTONE D314 R-4
Case 480C
John Deere 310C
Kubota L4600
Yanmar YT359 / YT347 / YT347C / YT359
Yanmar YT359C / YM342 / YM347
18.4-26 12PR TLS DEESTONE D314 R-4
Hyundai H940S
19.5L-24 12PR TLS DEESTONE D314 R-4
Caterpillar 416
John Deere 310L EP / 310L / 310L / 310SL
John Deere 310SL / 310SL HL / 315SL / 315SL
Sinomach 630 / 630A / 620CH
21L-24 12PR TLS DEESTONE D314 R-4
Caterpillar 416
John Deere 310L / 310SL / 315SL / 410L
* Always refer to your vehicle manual for specifications in your region