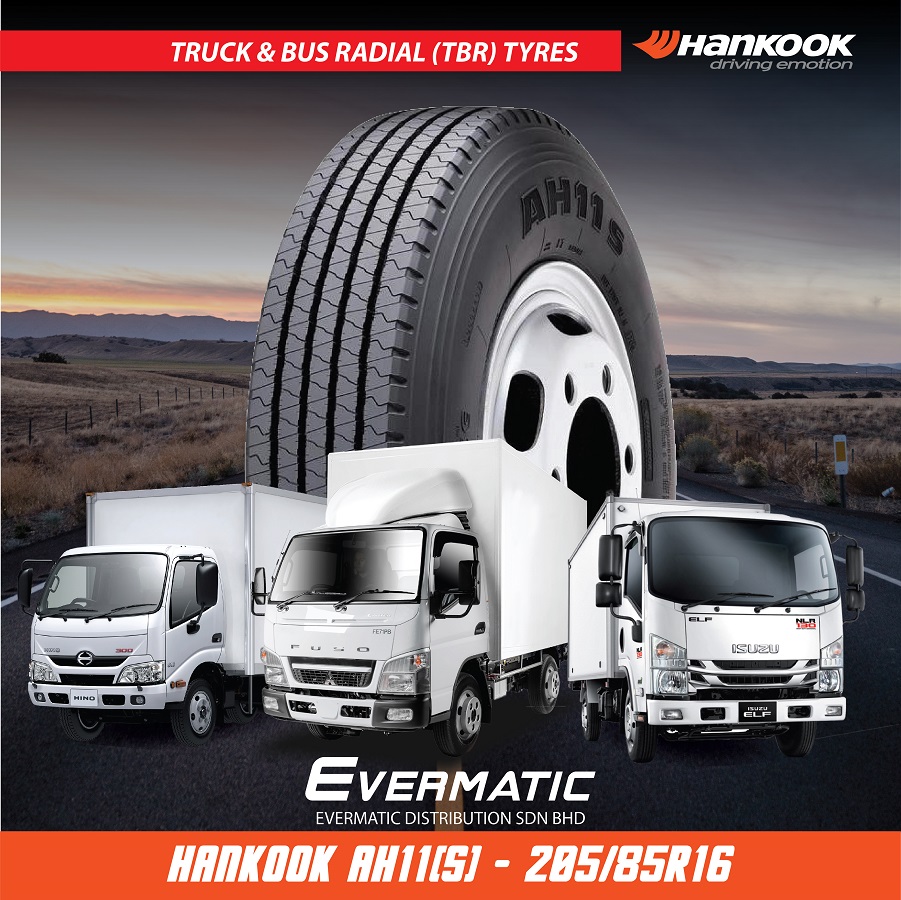 Hankook AH11(s) Regional Truck & Bus Radial Tyre
The Hankook AH11(s) is a regional-haul truck and bus radial (TBR) tyre for light-to-medium duty cargo trucks with 205/85 R16 tyre fitment such as Malaysia's best-selling Isuzu ELF, Hino 300 Series and Mitsubishi Fuso Canter.
Designed for optimum cost per kilometre, the AH11(s) steer/all position 16" truck tyre is built with added toughness against uneven wear, chip-cut and tearing to deliver premium value to transport fleets in all weather conditions.  
The AH11(s) – which features Hankook's Kontrol Technology that prioritizes performance, safety, comfort and environment – is part of the wider range of Hankook commercial TBR tyres distributed in Sabah, East Malaysia by Malaysia tyre supplier, Evermatic Distribution.
Enhanced Durability
The Hankook AH11(s) incorporates innovative tread design with stepped ribs and large shoulders which enhances lateral stability for precise handling and carcass structure which adds protection against outer shock or loading weight.
Better Mileage
The Hankook AH11(s) features wide tread with deep groove which minimizes irregular wear by distributing tyre load more evenly while the innovative mixing system (IMS) maximizes wear-resistance by strengthening rubber bonding for long mileage and fuel efficiency.
Stable Grip
The Hankook AH11(s) combines 4 tread channels with surface grooves to provide solid grip for stable steering on wet/dry roads as well as improved bead for high-speed safety and long mileage.  
Your Tyre Partner
Hankook AH11(s) is available from Evermatic Distribution, a Malaysian tyre supplier based in Kota Kinabalu, Sabah, East Malaysia. We distribute and supply Hankook tyres throughout western Sabah including Kota Kinabalu, Penampang, Inanam, Tuaran, Ranau, Putatan and Papar; southern Sabah including Tawau, Labuan, Beaufort, Keningau and Tenom; eastern Sabah including Sandakan and Lahad Datu; and northern Sabah including Kudat and Kota Marudu:
Hankook passenger car radial (PCR) tyres
Hankook SUV/4x4/light truck tyres
Hankook truck and bus radial (TBR) tyres
Browse our Products or Contact us for more details on Hankook products.
About Hankook
Hankook is one of the world's leading tyre brands with global distribution in more than 180 countries as well as production facilities in Korea, China, USA, Hungary and Indonesia supporting an annual capacity of over 100 million tyres. Backed by strong R&D and technology innovations, Hankook develops strategic OE partnerships with major car manufacturers such as BMW, Audi, Porsche, Mercedes, Hyundai, Kia, Honda, Perodua and more.   
Links
https://www.hankooktire.com/mea-en/trucks-bus/hankook-ah11s.html
Size Compatibility
205/85 R16 HANKOOK AH11(s)
Foton Aumark BJ1041
Hino 300 Series XZU600 XZU600R-WKMLK3
Hino 300 Series XZU640 XZU640R-WKMLK3
Hino 300 Series XZU600 AT XZU600R-WKTLK3
Hyundai Mighty EX6 D4GA14A
Isuzu ELF NLR130 NLR85UEEN / NLR85UHEN
Isuzu ELF NLR130 NLR85UEE / NLR85UHE
Isuzu ELF NLRPRO NLR77UEE / NLR77UHE
Isuzu ELF NLRCREW NLR77UFEW / UHEW
Isuzu ELF NMRCREW NMR77UFHW
Mitsubishi Fuso Canter FE71PB
* Always refer to your vehicle manual for specifications in your region