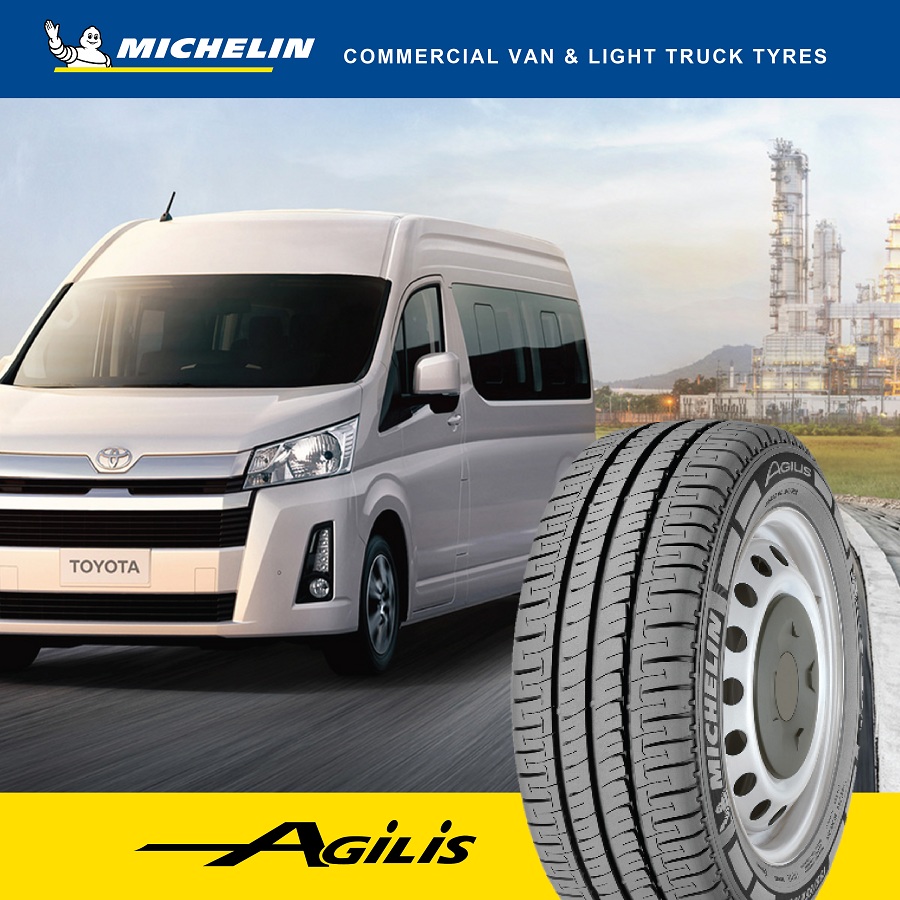 Michelin Agilis Commercial Van & Light Truck Tyre
The Michelin Agilis light truck tyre for light van and commercial vehicle fleet keeps your business moving all year round with class-leading high mileage, fuel efficiency and added durability.
From intra-city goods delivery to transportation between light trade jobs, the Agilis features Michelin's enhanced grip technology and optimized sidewall kerb protectors to withstand urban driving conditions and road hazards while maintaining a comfortable ride.  
Michelin Agilis Tyre
The Agilis – including its popular 195 R15C tyre size segment – is part of Michelin's broader lineup of high-quality commercial truck and bus tyres that are distributed in Sabah, East Malaysia by Malaysian tyre supplier, Evermatic Distribution.  
Perfectly adapted for the daily demands of light commercial vehicles, the Michelin Agilis offers stronger, longer lasting performance preferred by professional fleet managers and tradesmen.  
Longer Mileage
The Michelin Agilis' Durable Contact Patch technology enables even pressure distribution between tread blocks and road for enhanced grip, thus contributing to longer mileage.

Based on Michelin's internal tests, the Agilis lasts 30% longer compared to its predecessor.
 
Stronger Protection
The Michelin Agilis' thicker sidewall design also includes 8 kerbing protectors at carefully-calculated positions to optimize protection against road obstacles.
 
Common Size
195 R15C MICHELIN AGILIS
Toyota Hiace Panel Van 2.5 Turbo Diesel
Nissan Urvan NV350 2.5 Turbo Diesel
Foton View CS2 Window Van 2.8 Turbo Diesel
Foton View C2 Window Van 2.0 Petrol / 2.8 Turbo Diesel
Foton View C2 Panel / Semi Panel Van 2.0 Petrol
Era Jinbei H2L 2.5 Petrol / 2.5 Turbo Diesel
Your Tyre Partner
Michelin Agilis is available from Evermatic Distribution, an authorized Malaysian Michelin tyre distributor based in Kota Kinabalu, Sabah, East Malaysia. We distribute and supply Michelin tyres throughout western Sabah including Kota Kinabalu, Penampang, Inanam, Tuaran, Ranau, Putatan and Papar; southern Sabah including Tawau, Labuan, Beaufort, Keningau and Tenom; eastern Sabah including Sandakan and Lahad Datu; and northern Sabah including Kudat and Kota Marudu:
Michelin passenger car radial (PCR) tyres
Michelin sports utility vehicle (SUV) tyres
Michelin 4x4/4WD tyres
Michelin commercial / light truck tyres
Browse our Products or Contact us for more details on Michelin products.
About Michelin
Michelin is a global tyre manufacturer that consistently ranks as one of world's most valuable tyre brand with 7 worldwide R&D centres, 69 tyre manufacturing facilities, 5,000 tyre distribution & service centres and over 190 million tyres on the road.  
Links
https://www.michelin.com.my/auto/tyres/michelin-agilis
https://dcadprod.azureedge.net/b2c-experience-production/attachments/cjt...