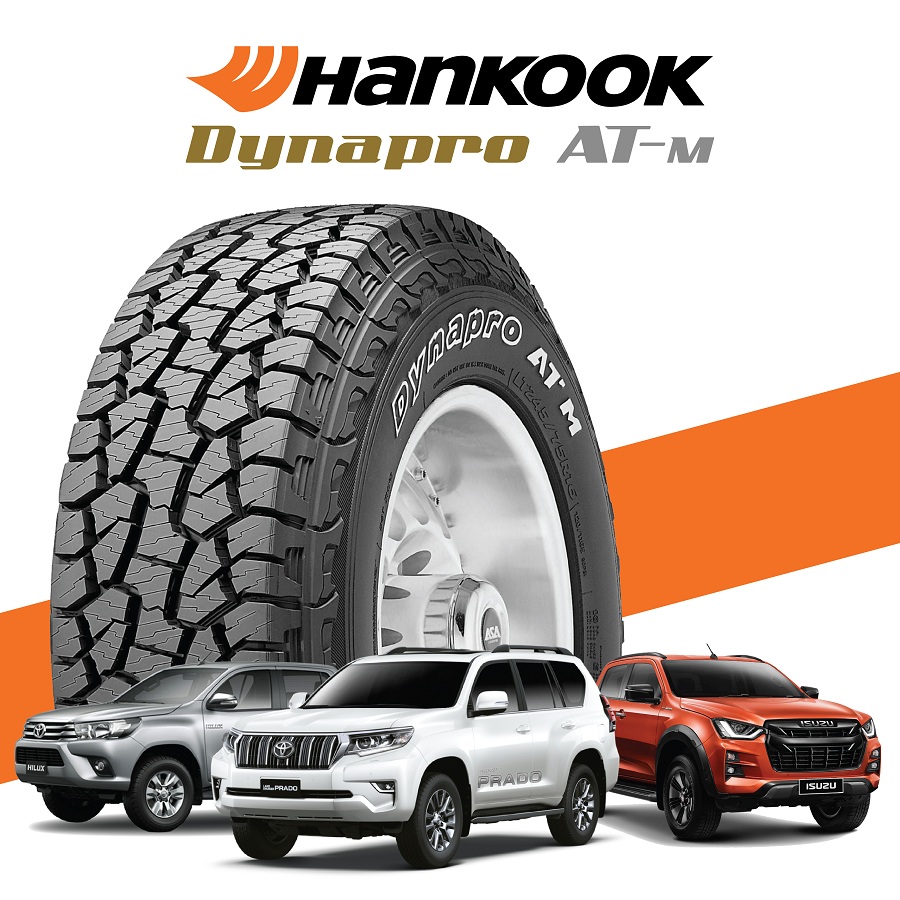 Hankook Dynapro AT-M RF10 4x4 Tyres
The Hankook Dynapro AT-M RF10 is an all-terrain 4x4 tyre suitable for 4-wheel drive (4WD) cars, light trucks, pickup trucks and sports utility vehicles (SUV). As an all-terrain tyre with outstanding value proposition, it is known for its aggressive on-road and off-road performance.
Let's delve deeper into what makes Dynapro AT-M RF10 "the best on/off-road tyre for 4x4 vehicles" according to Hankook and why it continues to be one of the most popular all-terrain 4x4 tyres distributed by Malaysia tyre distributor, Evermatic Distribution in Sabah, East Malaysia market.
Rugged Protection
The Hankook Dynapro AT-M RF10's rugged design consists of wraparound tread that protects against cuts, bruises and impact breaks; rim flange protectors that guard rims from accidental curb damage; and stone ejectors in the center and shoulder grooves that protect against stone or external impact damage.
It is also designed with reinforced under-tread gauge and thick sidewall rubber gauge to further protect against off-road impacts; jointless bead wire to prevent bead separation when driving off-road on low air pressure; and reinforced carcass to improve hill climbing and steering stability both on and off the road.
Innovative Tread
The Hankook Dynapro AT-M RF10's tread design consists of a balanced block with aggressive sharp edge patterned after a tiger's teeth and 7%-8% wider tread footprint than comparable tyres to minimize uneven wear and provide the best grip and acceleration under all road conditions. Deep tiered side grooves enable a more precise and stable cornering while scallop grooves between tread blocks increase the tyre's 'biting' edges to improve off-road traction.
Wet Traction
The Hankook Dynapro AT-M RF10's traction design consists of angled side groove that has self-cleaning capabilities to boost wet traction; wave kerf with deep two-step sipes that extend tread life and performance on wet roads; and zigzag block edge that provides superior grip in wet, icy and dry conditions.   
Common Tyre Sizes
Hankook 15-inch tyres*
Size: 31x10.5 R15R W Hankook Dynapro RF10AT
Hankook 16-inch tyres*
Size: 245/70 R16T W Hankook Dynapro RF10AT
Fitment: Isuzu Dmax (2.5 4WD, 2010/2.5L 2WD Hi Ride MT, 2013/Double Cab 3.0L, 2010/Single Cab 2.5L 4WD/3.0 MT, 2007/3.0 LS, 2007/2.5L 4WD MT-L, 2013), Mitsubishi Triton (2.5 AT, 2012/2.5 MT, 2012/3.2L Auto, 2007/4x2 (A) 2.5D, 2007), Mitsubishi L200 (STORM-K74TGJERXFM, 2004/STORM-K74TGJERXFM DIESEL, 2006), Ford Ranger (XL Double Cab 2.5LTDI 4X4, 2010), Ford Fighter (Arista, 2006)
Size: 265/70 R16T W Hankook Dynapro RF10 AT-M
Fitment: Toyota Hilux Vigo D/Cab (1999/2002/2003/2005), Toyota Land Cruiser (Common 2000), Mitsubishi L200 (Common, 2003/Double Cabine, 2000)
Size: 275/70 R16T Hankook Dynapro RF10AT
Size: 285/75 R16 W Hankook Dynapro RF10AT
Hankook 17-inch tyres*
Size: 265/65 R17 W Hankook Dynapro RF10AT
Fitment: Toyota Land Cruiser (Prado, 2005/Common, 2002/Common, 2003)
Your Tyre Partner
Hankook Dynapro AT-M RF10 is available from Evermatic Distribution, an official Malaysian Hankook tyre distributor, tyre supplier and tyre wholesaler based in Kota Kinabalu, Sabah, East Malaysia. We distribute and supply a range of Hankook tyres throughout western Sabah including Kota Kinabalu, Penampang, Inanam, Tuaran, Ranau, Putatan and Papar; southern Sabah including Tawau, Labuan, Beaufort, Keningau and Tenom; eastern Sabah including Sandakan and Lahad Datu; and northern Sabah including Kudat and Kota Marudu:
Hankook passenger car radial (PCR) tyres
Hankook 4x4 tyres
Hankook SUV tyres
Hankook light truck tyres
Browse our Products or Contact us for more details on Hankook products.
*Source
https://www.hankooktire.com/my/passenger-cars/hankook-dynapro-at-m-rf10....
https://www.hankooktire.com/my/tire-finder/passenger-cars.html